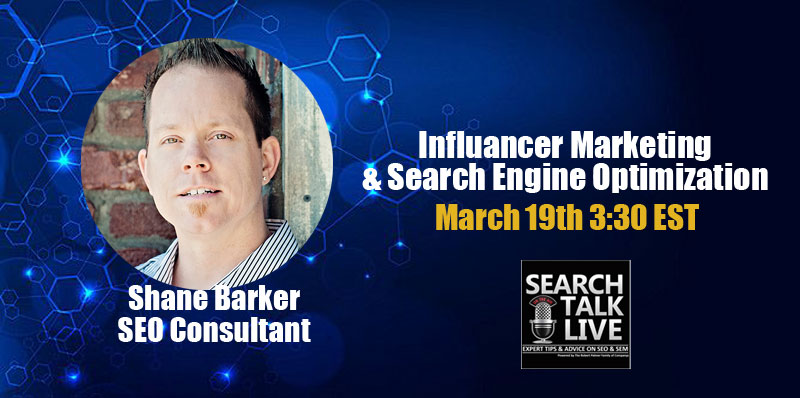 Influencer Marketing and SEO with Digital Marketing Consultant, Shane Barker
March 19 @ 3:30 pm

-

4:30 pm

EDT
Shane Barker is an accomplished digital marketing consultant. From working with celebrities on digital reputation management to obtaining a #1 national ranking with PROskore as a social media consultant, Shane has built an impressive list of accomplishments in digital marketing. As a regular contributor to publications like Salesforce, Yahoo Small Business, Marketing Profs and others, he continues to grow and share his knowledge.
Shane is an active member of Sacramento startup culture, donating time and resources to help young companies build a optimize their business from napkin sketch to revenue. He is a regular at hackathons and startup events, mentoring and guiding other entrepreneurs. As a marketing consultant, he's advised many companies and individuals to their own version of a finish line, helped them accomplish their business and revenue goals. He's still consulting to this day, but the same as running, by continuing to work at it, he's grown his service offering into a full-scale marketing machine. He's built a machine that is designed to achieve lofty revenue and customer acquisition goals with advanced digital marketing strategy.
The thing about consulting is that without implementation and execution on the client-side, it's possible to fall short of the finish line. Again, as somebody driven to cross that finish line, Shane has developed a team that allows companies to outsource large marketing projects to him with guaranteed results. Usually, these projects include lead generation, customer acquisition, conversion optimization, and management consulting… to start.
If you want your question to be featured on the show, just email robert@searchtalklive.com. Follow us on Twitter.  Ask your question on Twitter using #searchtalklive. Listen to us 24/7 on the iHeartRadio app Under Podcasts > Search Talk Live to listen to previous episodes. Every week there is something different, so you'll always have something to listen to on your morning commute! Join our Newsletter to keep up with all the latest STL news and coming shows! the show is also available on iTunes, Spreaker, Sound Cloud, iHeart Radio and most Podcast stations around the world.